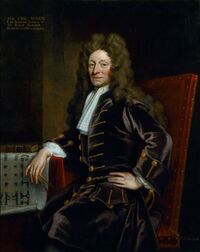 Sir Christopher Wren FRS (c.20 October 1632–25 February 1723) was regarded as one of the most famous English architects in history. He was responsible for rebuilding 51 churches in the City of London following the Great Fire in 1666 as well as building what is considered his masterpiece in St. Paul's Cathedral. He was also a notable astronomer, geometer, and mathematician-physicist. In 1660, he would find the Royal Society of London for Improving Natural Knowledge, or simply the Royal Society.
Locating the Shepherd's Journal
Edit
In 1701, Wren stopped in Florence, Italy for a week. It is believed that did so specifically to search the Uffizi Gallery for the Shepherd's Journal, likely having heard of it's influence in King Philip II of Spain's building of El Escorial. Wren would be successful in finding the Journal as well as soliciting diplomatic help to secure its loan to Cambridge University, where his brother was a professor in antiquities.
It is believed that Wren was hoping to draw inspiration from the Journal as well for future architectural work. However, Wren ended up enduring a period of criticism and doubt, among them his appointment to the Fifty New Churches Commission in 1711 only to end up in charge of board works. He would be dismissed in favor of William Benson in 1718, while the book remained at Cambridge for study.
Community content is available under
CC-BY-SA
unless otherwise noted.