Cookie Farnsworth
Background Information
Birthdate
1842 (Age 72)
Birthplace
Tulsa, Oklahoma
Gender
Male
Family
Forsthye Ezekial Fransworth (Father, Deceased); Marina Sweetwater (Mother, Deceased)
Occupation
Chef of Atlantis Expedition
Status
Alive
Character Information
Voiced By
Jim Varney
Steve Barr
Supervising Animator
Shawn Keller
Jebidiah Allardyce "Cookie" Farnsworth is a character in Atlantis: The Lost Empire who serves as chef of the expedition to find the lost continent of Atlantis. He would reappear in the direct-to-video sequel Atlantis: Milo's Return.
Cookie is a slender, elderly man with both white beard and eyebrows.
Despite his advancing years, "Cookie" Farnsworth remains at the forefront in the are of field culinary preparation.
Farnsworth earned a reputation while enlisted in the U.S. Army as a man who could literally feed legions with almost no supplies at all. Renowned for his ability to find food or supplies where there are seemingly none, regardless of season, climate, or geography. Reputed to have prepared lavish dinner for General Sheridan during Appomattox, that centered around a dish said to be rabbit amandine, but was in reality tomcat and bootsoles, "I herd [sic] about this'n from a Frenchman down Louisiana way."
Experienced with livestock, quartermastering, baking, and fur trapping. Did a brief stint as a buffalo hunter in 1877.
Joined the 7th Michigan Cavalry Brigade under General McLellan in 1861. Began work as a teamster and mule skinner. Recruited as a sharpshooter by 2nd Lieutenant Colonel George A Custer. 3rd Division, Cavalry Corps, Army of the Potomac in 1863 under General Pleasanton.
Distinguished himself as an "Expert Marksman" at Battle of Chancellorsville. Promoted to corporal. After spending a hungry week without supplies, Farnsowrth took it upon himself to begin training as a field scout and cook. Showed remarkable aptitude as quartermaster, but preferred the kitchen, "… it bein [sic] my true art an all." Followed the newly promoted Brigadier General Custer to the Michigan Cavalry Brigade; saw action at Gettysburg, Bristos, and Mine Run.
Once again pressed into service as a sharpshooter, Farnsworth is credited with shooting Confederate General Pettigrew at Falling Waters in 1864. After the War Between the States, Farnsworth followed the now demoted Lieutenant Colonel Custer as his personal chef to Fort Laramie in Wyoming, 1866 with the 7th United States Cavalry. Toured with Custer during the 1867 Sioux and Cheyenne Expedition.
Farnsworth left the Army in 1878 and moved to Houston, Texas, where he quickly rose to the position of Yard Boss for Whitmore Industries Stockyard and Feedlot. Attended culinary school in Baton Rouge and New Orleans, 1882-84. Moved to New York and opened Three Chestnut Restaurant, where he remained as Chef. Sold restaurant at a loss in 1886 and took position as Chef for Waldorf Astoria Hotel. Dismissed from service after an altercation with a complaining patron.
After heated words concerning Farnsworth's expertise, the customer was shot in the knee. Returned to work in Houston for Whitmore Industries as Trail Cook for the Abeline-El Paso trail run. Currently on retainer.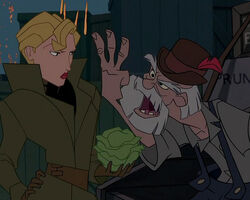 | | | |
| --- | --- | --- |
| " | I got your four basic food groups! Beans, bacon, whiskey and lard. | " |
Cookie participates in the expedition that locates the Shepherd's Journal in Iceland. He is later talked into agreeing to locate a giant crystal pictured in the book and sell it on the black market for a hefty price.
Cookie's culinary dishes made throughout the expedition are generally met with disdain and disgust, with an exception from Gaetan Moliére. He is hardly called upon for any sort of importance, although it is implied his sharpshooting abilities were still appreciated enough to warrant his manning gun turrets aboard the submarine Ulysses.
When the Heart of Atlantis is recovered, Milo James Thatch makes a plea to the others regarding what their actions will do. Cookie is among those who side with Milo and participates in the battle to stop Lyle Rourke. Though the others would discover how to discharge energy bolts from their flying stone fish vehicles, Cookie would use his shotgun instead with Wilhelmina Packard riding alongside him.
Cookie is honored for his bravery in saving Atlantis, offering Milo his bacon grease as a departing gift. Upon returning to the surface, he would outfit his crystal as a replacement tooth. He had trouble remembering the cover story he is to tell with Packard having to hit him a few times as a result.
Cookie would join the others in returning to Atlantis briefly in informing Milo and Queen Kidagakash of what is happening on the surface.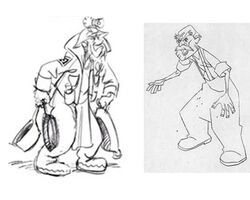 Writer Tab Murphy noted that, because of the film's time period, it opened the possibility of including a character who may have participated in the taming of the West. He would further develop the character as a cook who blamed himself for what happened to Custer believing it was because of the food he made that day.
The filmmakers almost immediately knew who to assign to supervising the animation of Cookie. Shawn Keller was a very well known and highly recognizable western fan and the filmmakers knew Cookie was the kind of character Keller would have fun with animating. Keller was also known to display the kind of eccentric personality of the character.
When recording dialogue for the character, the filmmakers booked three hours for every day Jim Varney would record because he was allowed to go any and every where with the character. Outside of the occasional direction of Cookie reacting to something, Jim would improvise all of Cookie's dialogue and more. Jim passed away on February 2000 of lung cancer. Only one line of dialogue near the end of the film is not performed by Jim, instead by impersonator Steve Barr who would go on to voice the character in the sequel.
Community content is available under
CC-BY-SA
unless otherwise noted.