Jurassic World: Dominion Dominates Fandom Wikis - The Loop
Play Sound
Joshua Sweet
Background Information
Birthdate
1872 (Age 42)
Birthplace
Bigelowe, Kansas
Gender
Male
Family
Corporal Moses Sweet (Father); Jerika Sweet (Mother); Iron Cloud (Uncle)
Occupation
Medical Officer
Status
Alive
Character Information
Voiced By
Phil Morris
Supervising Animator
Ron Husband
Doctor Joshua Strongbear Sweet is a character in Atlantis: The Lost Empire who serves as medical officer of the expedition to find the lost continent of Atlantis. He would reappear in the direct-to-video sequel Atlantis: Milo's Return.
Appearance
[
]
Sweet is a tall man with a mountainous physique and muscular arms. He is completely bald and has dark skin. He wears an army tank top and string boots with waterproof covers.
Dossier File
[
]
Expertise
[
]
Doctor of Internal Medicine, MD, Howard University, 1895; Botanist, Ph.D. University of Maryland, 1896; Doctor of Herbology, London, 1897; first professor of color to lecture at Harvard Medical School, 1897.
Joined Military in 1898, toured with 1st United States Volunteer Infantry (Rough Riders) until 1901, acting as battlefield surgeon and Colonel Roosevelt's personal physician for a period of 3 months during the Kettle and San Juan Hill Campaigns. He was instrumental in treatment of soldiers from both sides of conflict in disease-ridden Cuban jungles after hostilities had ceased. Received no formal commendation except for a personal letter from Colonel Roosevelt.
Has extensive knowledge of Arapaho and Cheyenne healing techniques; mentored by his maternal uncle, Iron Cloud. Traveled to India and studied Ayurvedic Medicine at Amrita Institute, 1905. Traveled to Ivory Coast and studied Tropical Medicine at Prins Leopold Academy, 1908. Traveled to Tulsa, Oklahoma and studied Large Animal Veterinary Medicine at Baxter University, 1913.
Background
[
]
Born in an Army Clinic in Fort Phil-Kearny, Joshua Sweet was raised in turns at Pine Ridge Reservation in the Dakota Territory, and various Army outposts throughout Texas, Oklahoma and Kansas. While living on Reservation Territory, Dr. Sweet was tutored by his uncle, an Arapaho Elder and Medicine Man, Iron Cloud. During this time, Dr. Sweet developed a talent and appreciation for unconventional forms of medicine.
When living and traveling with the 24th Infantry, he would assist the medical corps where his father was assigned as a medic. Dr. Sweet is well traveled and well versed in a wide variety of medical practices. His background in botanic research and pharmaceuticals is particularly useful when on extended campaign. Dr. Sweet was first recruited by then Lt. Rourke after the battle of Santiago. He is currently on retainer.
Atlantis: The Lost Empire
[
]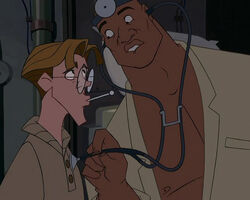 | | | |
| --- | --- | --- |
| " | One day I'm studying gross anatomy in the classroom, the next I'm sewing up Rough Riders on San Juan Hill. | " |
Sweet participates in the expedition that locates the Shepherd's Journal in Iceland. He is later talked into agreeing to locate a giant crystal pictured in the book and sell it on the black market for a hefty price.
Sweet meets Milo Thatch shortly after the Ulysses launches. Instead of waiting for the schedule three o'clock physical, Sweet decides to proceed immediately after Thatch's encounter with Gaetan Moliére. His swift movement and speed allows him to nearly complete his task when Milo is called to the bridge for a briefing.
As medical officer, Sweet is hardly present through the majority of the journey as his responsibilities are tending to the sick or injured. He is among the first to take Milo in at a rest stop and almost immediately opens up about being the son of an African American Buffalo soldier and a Native American woman as well as his experiences riding with Theodore Roosevelt. Sweet encourages Vinny Santorini to open up, hands Milo a sleeping mask because Wilhelmina Packard sleepwalks nude, and warning him that it is not worth knowing Mole's background.
He is in awe of Atlantis and the Atlanteans, in particular Princess Kidagakash, who punches Mole for his attempted flirtation. Sweet appears to even enjoy their food despite having stated earlier that he disliked eating fish. While he does initially stick with Rourke as he executives the primary objective in finding the giant crystal, he appears to break away after Rourke strikes the already dying Atlantean King Kashekim Nedakh. It is presumed he already sided with Milo as he is tending to the king when Milo is making his plea to the others.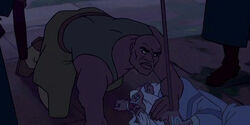 Despite his best efforts, Sweet is unable to save the Atlantean King. Being present when the king explained to Milo the importance of the Heart of Atlantis before his passing, Sweet provides the pep talk using a phrase Milo's grandfather once told him to spring him into action.
Sweet shares a flying stone fish vehicle with Audrey Ramirez and the two attempt to free the container holding Kida and the Heart of Atlantis from the escaping hot air balloon while Milo and Vinny act as decoys, but Rourke and Helga Sinclair manage to shoo them off dropping bombs around them. Fortunately, Milo would bring about Rourke's defeat and the rescuing of Kida, the Heart of Atlantis, and Atlantis itself.
Sweet is honored for his bravery in saving Atlantis, straightening Milo's stiff neck one last time before leaving. Upon returning to the surface, he would outfit his crystal as a centerpiece to his tie.
Atlantis: Milo's Return
[
]
Sweet would join the others in returning to Atlantis briefly in informing Milo and Queen Kidagakash of what is happening on the surface.
Development
[
]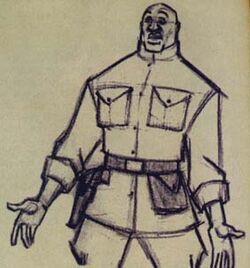 In wanting to develop a diverse cast of characters, the filmmakers felt it necessary to create one of the few African-American characters to appear in a Disney animated feature. Furthermore, the character would be among the leading figures in the film. The inclusion of Sweet having a Native American mother was also part of the desire for diversity in the cast.
The supervising animator of Sweet was Ron Husband, who was one of the first African-American animators at Disney. Husband was credited for introducing a unique contradiction to the character, appearing big and hulking, yet was as swift and fleet as could be. Furthermore, Husband was in constant contact with Howard University, who provided him with photographs of the medical supplies a character like Sweet would have in the film's time period.
Phil Morris provided the voice of Sweet. Morris' performance was said to have been a major component in the way Husband animated the character as Husband noted Morris' delivery was very rapid-fire, making it difficult for the mouth movements to remain in sync with the dialogue. Morris considers Sweet to be an extreme character with no middle ground in that when he's happy he's real happy and when he's solemn he's real solemn.
Gallery
[
]